Today we're launching a major new release of our Graphite platform – an entirely new way for brands to connect with, and understand, people.
Building meaningful relationships require personal connections and understanding. But today, even after offering rich rewards through carefully architected loyalty programs – customers are the least loyal to brands than they've ever been.
Even after investing millions of dollars in tracking technology and building massive consumer databases, most marketers still know very little about who their customers really are and what they care about.
Meanwhile, over a billion Facebook users have been busy creating a rich and complete social identity for themselves – expressing what they care about with the people they care about. Facebook users were sharing at a rate of 5.5 billion things about themselves per day last August and it has been over doubling every year.
We asked ourselves how much more relevant a brand could be to their customers if they were able to link a customer's social identity (their real identity) with an explicit understanding of their product interests (not just purchases) – and then scale this understanding across millions of interconnected people.
Of course the answer is – much more relevant! The brand would quickly leap ahead of their competitors by building real relationships with the people that buy their products.
Our clients have called it the "holy grail" of Marketing.
We call it Graphite.
Graphite lets brands see their customers as people instead of just consumers for their products – because people are more than what they buy.
Watch the product launch video: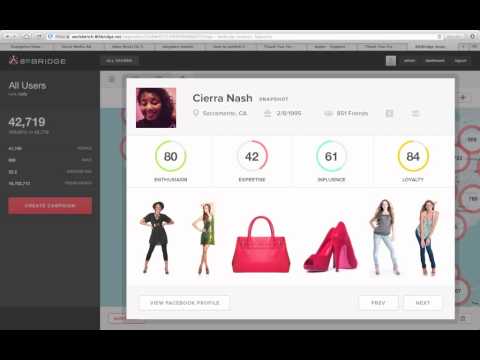 Snapshots

One of the first things marketers do when they start using Graphite is to get introduced to their future and existing customers with Snapshot. For some marketers, this is the first time she has been properly introduced to the people that want to buy her products.
Snapshots give her a rich portrait of a customer including their Facebook profile photo, interests, product tastes, and key metrics about their influence, expertise, and enthusiasm for the brand.
Snapshots provide an entirely new window into seeing customers and understanding them at an individual level. Graphite also makes it easy to scale this understanding to large groups of customers using a social segmentation capability called Crowds.
Crowds

Crowds organizes people using sophisticated data science and marketing intuition. It identifies groups of people based on an understanding of how a marketer would likely want to communicate with them given her marketing goals.
A marketer's fundamental goals can often be boiled down into three things: to acquire new customers, grow their business with existing customers, and retain existing customers. Here are a few examples of the pre-defined Crowds available with Graphite and how they help marketers deliver on marketing objectives:
Objective – New Customer Acquisition:
- Prospect Crowd: Identifies people that have engaged with the brand digitally, which products they've explicitly shown interest in, but haven't yet made a purchase.
- Influencer Crowd: Identifies influential people that have either referred many new customers to a brand or are predicted to become referrers.
Objective – Grow Customer Spend:
- Interest Crowds: Organizes people based on their product tastes and also identifies customers that expressed interest in a product but have not yet purchased it.
- Expert Crowd: Identifies people that others believe have good taste or expertise.
Objective – Retain Existing Customers:
- Splinter Crowd: Identifies people that are at risk of defecting to a competitor.
- Angel Crowd: Identifies a marketer's most valuable customers using not only the amount of money they spend but also by including the value they create through their influence and expertise.
Marketers can refine their Crowds based on any number of dimensions and metrics or they can create their own customized Crowds from scratch.
Campaigns
Graphite makes it easy to create communications and share them with Crowds either directly or by triggering marketing systems such as email marketing and advertising campaigns.
Here a few examples:
1) Members of the Influencer Crowd could be offered a reward for bringing friends to a back-to-school sale at a store near them. The social reward, selected within Graphite, could be emailed to them, popped up on the website during a visit, and they can even receive Facebook notifications on their Facebook home page as they make progress toward achieving their reward.
2) Better performing retargeting ads can be triggered for people in the Interest Crowd that have shared explicit interest in a product (vs. just viewing a web page) but haven't yet bought it.
3) Facebook users that look like people in the Angel Crowd (best customers) can be efficiently targeted using Facebook's Custom Audience advertising technology.
These are just a few ways marketers can leverage 8thBridge Graphite to begin building more meaningful customer relationships through more personal connections and understanding – but we're just getting started!
Graphite 3 is available today in beta for existing 8thBridge clients and it will be available to new clients this summer to help marketers get optimized in time for the holidays.
To learn more about 8thBridge or Graphite please reach out to us at contact@8thbridge.com to schedule a briefing.